BRAZILIAN JIU JITSU
Brazilian JiuJitsu (BJJ) is a martial art, combat sport, and a self defense system that focuses on grappling and ground fighting in particular.
Brazilian JiuJitsu evolved from Kodokan Judo ground fighting (Ne-Waza) fundamentals that were taught to Carlos Gracie by Master Mitsuyo Maeda. 
BJJ embraces the concept that a smaller, weaker opponent can successfully defend themselves against a bigger, stronger opponent though the use of leverage and weight distribution applied through holds and submissions.
CLASSES
Five Points Academy offer Brazilian JiuJitsu classes for both adults and children.
All levels welcome, clean gi required.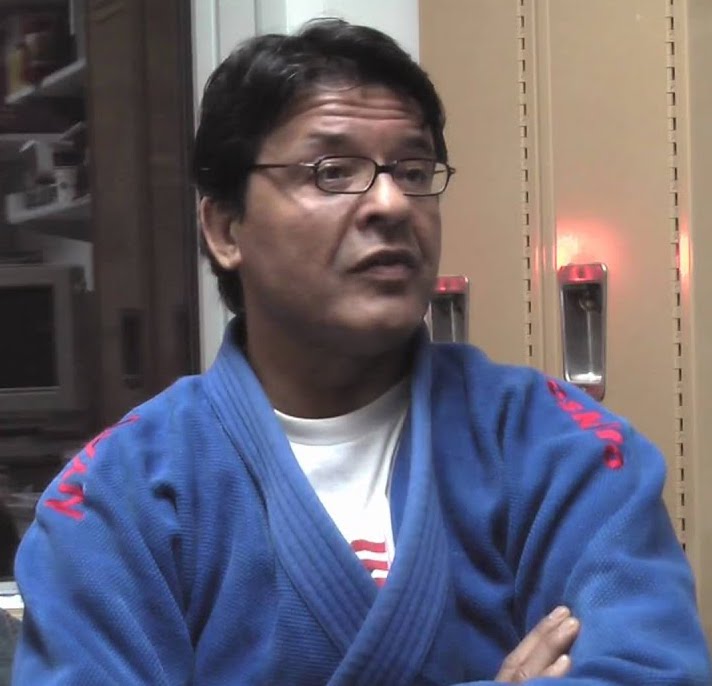 •TEIMOC JOHNSTON-ONO
Program Director
2nd Degree Back Belt Brazilian JiuJitsu  * 8th Degree Black Belt Judo
Teimoc's martial arts training started during the summer of 1960 in the basement of a Buddhist church. His father believed judo, kendo, aikido, and kyūdō were essential parts of an education, so at age of 6 he began his lifelong study of Judo. 
In 1971 Teimoc qualified as an alternate for the 1972 Olympic Games, which earned him the nickname "The Kid". Four years later he captured a coveted spot on the 1976 Olympic Judo team.
Teimoc retired from competition in 1990 to become Head Coach of the US Olympic training center in Colorado Springs, and two years later he returned to his home in New York City.
After a 14-year layoff, Teimoc returned to international competitions. In order to adapt himself, he was forced to redefine his training methodology. 
In 2003 Teimoc went to Brazil to compete in the World Masters Jiu Jitsu tournament, which he won. To date, he is undefeated and the only non-Brazilian to win both the Black Belt division and the Absolute Black Belt division. Returning in 2006, 2007 and 2008, he consecutively took back home first place awards in both divisions. Teimoc is the only practitioner to win the prestigious World Masters competition in both Judo and Brazilian jiu-jitsu.
In addition to serving as BJJ Program Director, Teimoc is available for private training in both judo and BJJ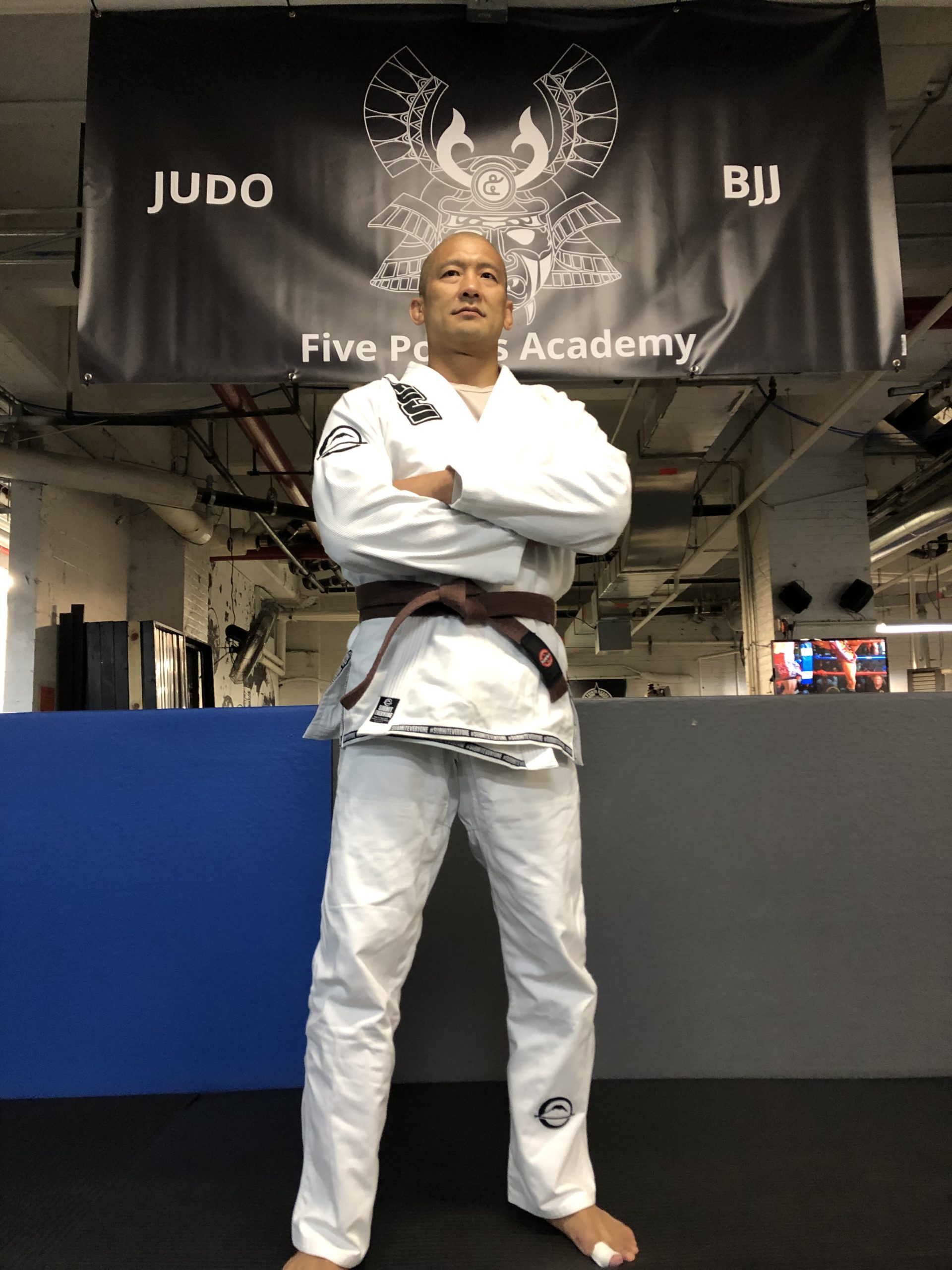 •ED CHAN
Chief  Instructor
Ed holds a brown belt in Brazilian Jiu Jitsu under Sensei Teimoc Johnston-Ono. An engaging instructor with an eye for technical detail, Ed loves teaching. He is also a green belt in Judo under Sensei Kevin McGrath.
In addition to his experience in BJJ, Ed has an extensive background in martial arts and physical culture. He is a Licensed Massage Therapist in New York and an ACE Certified Personal Trainer and Group Fitness Instructor with more than 25 years working with all abilities and age groups, specializing in developing strength, speed, coordination and balance. A native New Yorker, Ed grew up in NYC's Chinatown, where he studied Southern Praying Mantis Style Kung Fu under Grandmaster Yee and Sifu Quan at C.K.F.A.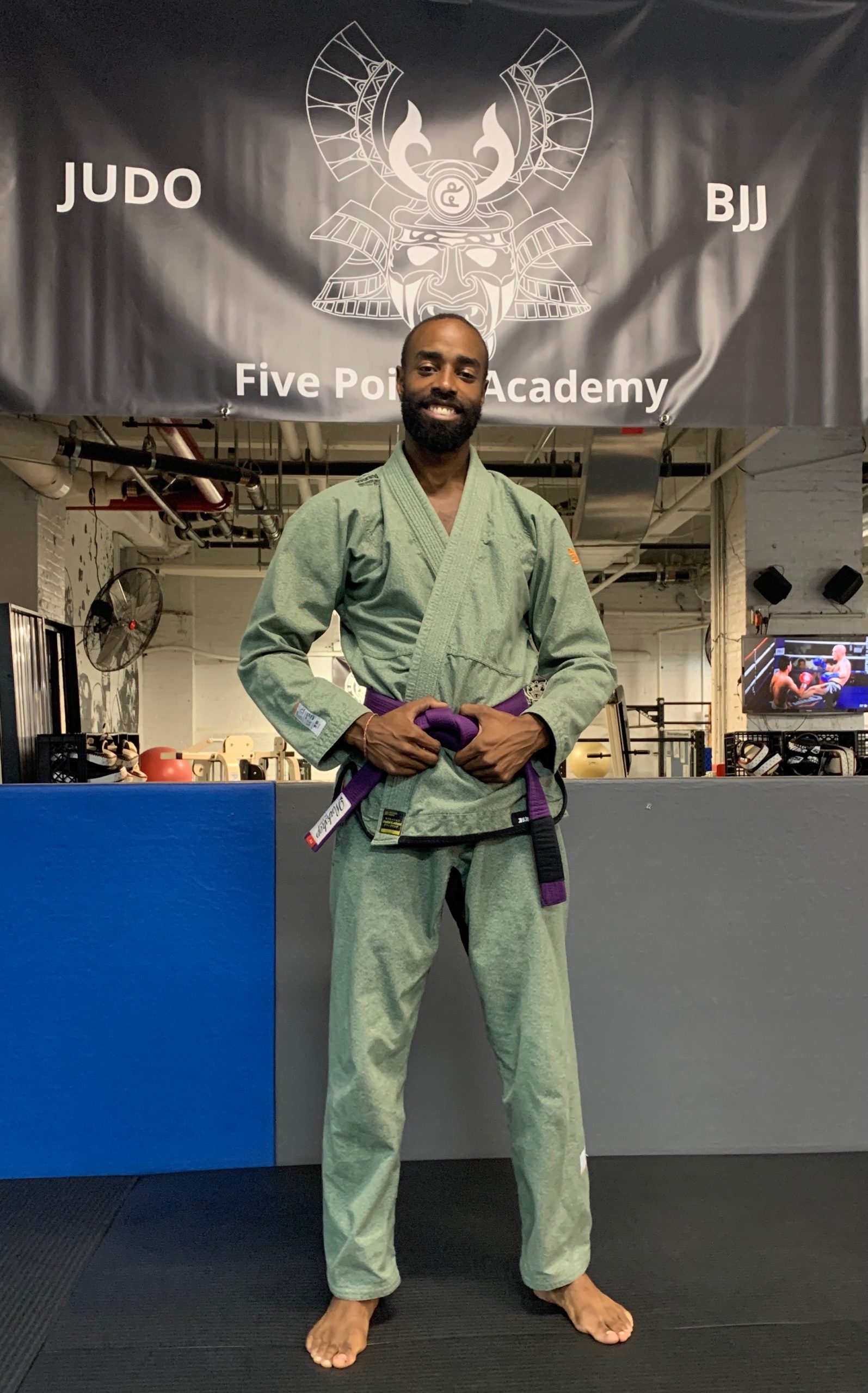 •MARCUS MEDLEY
Instructor
A gifted and hard-working athlete, competitor and instructor, Marcus loves teaching. He is a Brazilian JiuJitsu Purple Belt and Judo Black Belt, both earned at Five Points Academy.
A dedicated student of martial arts and physical culture, Marcus is an NASM Certified Personal Trainer, a Health Coach through the Institute of Integrative Nutrition and a Level 1 SFG StrongFirst Kettlebell Instructor. In addition to teaching and training at Five Points Academy, Marcus owns PowerMoves Private Training Studio in Brooklyn.