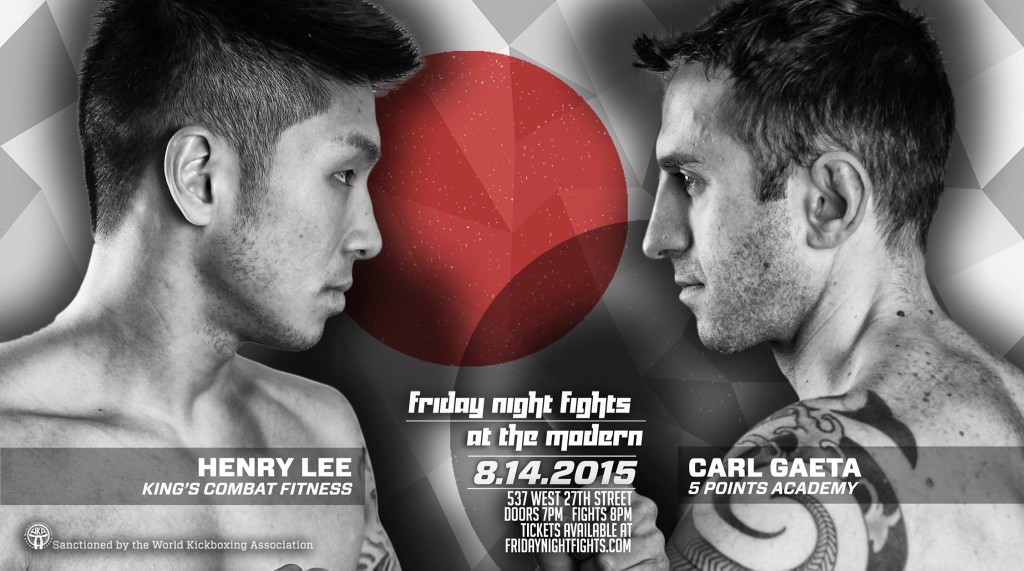 Friday Night Fights moves uptown for the night to the Skylight Modern, 537 West 27th Street. Five Points' Carl Gaeta returns to the ring agains the dangerous and aggressive Henry Lee (Kings Combat Sports), while Angelica Ferguson-Kraljevich looks to maintain her winning ways against Ariana Siegel (Square Circle). Tonight's show is loaded with good bouts, and tickets are still available at FridayNightFights.com. Doors at 7 pm, fights begin at 8 pm.
RESULTS: We have a long history with Friday Night Fights. Arjan Steve fought on the very first incarnation of the show, and headlined many of the events over the years. Arjan Simon had several memorable bouts on the promotion. Five Points fighters have appeared on countless events over the years. And there is no denying it is the most successful and well-attended muay thai promotion in New York City, and has been host to any number of excellent East Coast fighters. There is also no denying that there has been — and more rather than less in recent years — a real problem with the quality and consistency of the judging. It is an open secret in the NY muay Thai community. At every event there are multiple decisions that seem to perplex not just  fans educated in the scoring of muay thai, but casual newcomers as well. It's extremely frustrating for fighters, coaches, spectators…We can all only hope that at some point it is acknowledged and seriously addressed by the promoter and the sanctioning body.
Ferguson v Siegel (Square Circle)
With what appeared to be a knockdown in round 3 and significantly cleaner and harder knees, Angelica loses split decision to boxing attack of Ariana Siegel (Square Circle) in an entertaining match for the crowd.
Gaeta v Lee (Kings Combat Sports)
In an outstanding technical display of non-stop Muay Thai, Carl drops extremely close decision to the more experienced Henry Lee (Kings Combat Sports). It was Carl's body kicks and long knees vs. Lee's low kicks. The best fight of the night BY FAR — classic muay Thai.